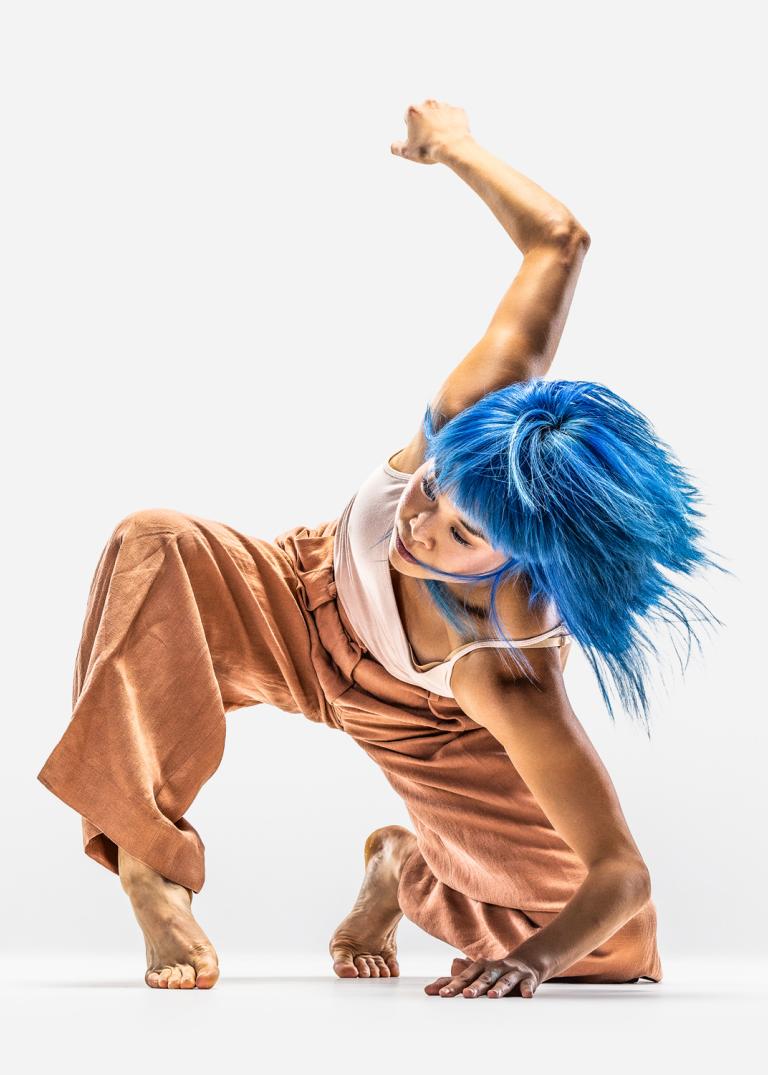 Skånes Dansteater believes everyone should have access to dance in accordence with the social model of disability. We are committed to developing accessibility across all areas in the theatre as a place for dance performances, artistic and community exploration, digital content and as an employer. 
Skånes Dansteater's venue
The theatre's facilities, entrances, foyer, restrooms, auditorium, offices and studios are located on ground level.
The entrance for audience as well as the entrance for staff don't have stairs. The doors are opened with electric assistance.
Accessible parking spaces are located in front of the theatre entrance on Östra Varvsgatan 13a.
Tickets
Wheelchair seats
The first row in our auditorium is on floor level. When purchasing tickets online via this website there are four marked wheelchair seats in the 'select your own seat' map.
Feel free to choose either the marked seats, or any of the other seats on the row, if you are a wheelchair user or if you avoid using stairs.
Companions Tickets
Companion tickets are available free of charge and can be booked by phone 0703-44 58 11 or email to info@skanesdansteater.se.
Skånes Dansteater is a partner of Malmönyckeln.
Assistive devices
Early Boarding
Do you require a bit of extra time to find your seat and get aquainted with the performance space? Please join us for Early Boarding. Ten minutes prior to the performance we enter the auditorium find your seat. Early Boarding gathers in the foyer before the performances begins.The exact time for Early Boarding can be found on the specific performance page on this site.
Enhanced Audio
Enhanced audio equipment is available for loan free of charge at all performances. Please ask the Cloak Room staff to borrow the earphones and transmitter. The equipment is returned after the performance.
Audio Description
We offer audio description to several of our performances in collaboration with visual interpreter Gunilla Kracht among others.
The audio description is experienced via earphones and transmitterthat you borrow prior to the performance.
Performance tickets with audio description are 100 SEK and are booked by email to dialog@skanesdansteater.se or by phone +46(0)703-44 58 11.
For current performances including Audio Description, please visit our Calendar.
Relaxed Performance
A Relaxed Performance suits anyone who prefers or needs a more flexible and relaxed performance experience.
It specifically welcomes disabled persons, but also welcomes anyone who is new or unused to being at the theatre or uncomfortable in a regular performance setting. If you are a parent to toddlers or you need to be able to move around and exit the performance for other reasons, Relaxed Performance is a perfect match.
At a Relaxed Performance there is a generous and relaxed attitude towards audience noise and movement in the auditorium. You are welcome to move around, dance, be vocal or just watch the performance. Our open-door policy makes it easy for you to exit and enter the auditorium as you please during the performance. The performance's audio levels are lower and the general lighting in the room is lighter to create a supportive atmosphere. Everyone is welcome and there is no right or wrong way to be an audience.
For current Relaxed Performances, visit our Calendar.
Dance Workshops
Skånes Dansteater's dance workshops welcome all abilities. No previous dance experience is required. The workshops vary thematically and often relate to our ongoing performances.
Idance - specifically for disabled dancers and participants.
SWOP Dance Club - for anyone who is new to Malmö and Skåne,
Dance Workshop 60+ - for everyone over 60 yearsr,
Dance for PD - for persons with Parkinson's disease,
Feel It - 30 minute pre-show workshops.
Explore our current workshops on our Calendar.
Contact
Is there anything you feel we should know about you with prior to your visit at the theatre, feel free to let us know. 
Your input regarding accessibility and inclusion at Skånes Dansteater is a vital component in developing our business. Please let us know if you have any feedback or suggestions to improve your Skånes Dansteater experience.
Email: info@skanesdansteater.se
Phone: +46(0)703-44 58 11.
Tillgänglighet
Se en film om tillgängligheten på Skånes Dansteater.