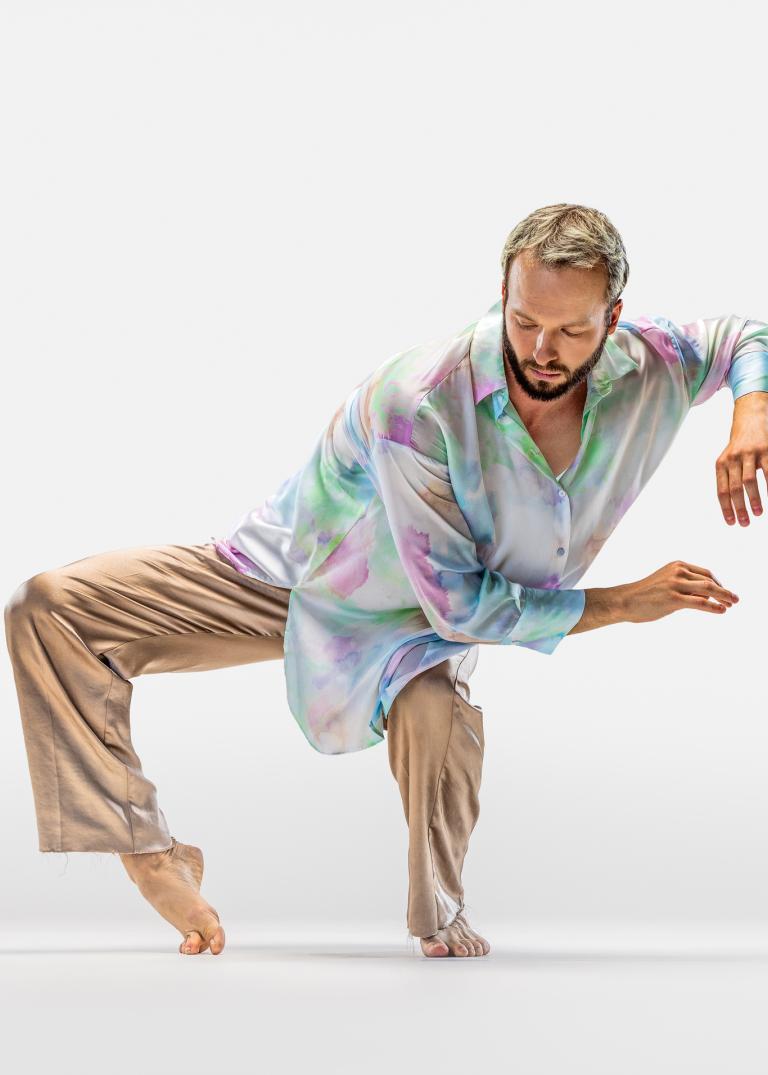 Welcome Sweden's only independent dans company since 1995! Here you can find everything you need to know to plan your visit to Skånes Dansteater.
Skånes Dansteater is located in the Western Harbour (Västra Hamnen) in Malmö. Our address is Östra Varvsgatan 13a. Since 1995 this is where you find our venue including our home stage and the dance studios, where our productions are created and rehearsed. This is also where we welcome you into the dance studio for workshops and where you can meet the dance artists we work with at various events.
Skånes Dansteater's venue
Skånes Dansteaters is located on Östra Varvsgatan 13a in Malmö, Sweden.
The threatre's venue, entrances, foyer, restrooms, auditiorium, offices and dance studios are on ground level.
There are no stairs to neither the entrance for visitors nor the entrance for staff. The doors to the theatre are opened with electric door openers.
Stage and Auditorium
When you visit the theatre to see a dance performance it is most often performed in our main auditorium with up to 250 seats. The chairs are placed in 12 rows with stairs leading from ground level row 1 to top level row 12. Four seats on row 1 are specifically wheelchair seats but all seats on the row are suitable for anyone using a wheelchair or wishing to avoid stairs.
There are four doors leading into the auditorium; A, B, C and D. On your ticket the most convenient door to access your seat is specified. Doors A and B are on ground level. Doors C and D are reached by stairs in the foyer.
On occasion the auditorium is altered, seating as well as stage layout for example 'Relaxed Performances', 'Lunch Dance' or others. If you can expect a different seating or access, that information is found in the texts about the performances.
Malmö Opera's venue
When we perform at Malmö Opera it is most often in their larger auditorium seating 1400 persons. The chairs are placed in 22 rows and a balcony. Parts of the Opera's auditorium is accessible for anyone wishing to avoid stairs, or persons with visual or hearing impairments.
Please read more about visiting Malmö Opera on their website
Getting here
Skånes Dansteater is a 15 minute walk from Malmö Central Station. Walk in the direction of Västra Hamnen (the Western Harbour) and the sea.
Public Transportation
The closest bus stop to the theatre is 'Ubåtshallen' (the Submarine Hall). Bus number 5 stops here. The bus trip from the Central Station takes less than 10 minutes.
Are you coming by train, please get off at Malmö Central Station.
By bike or scooter
There are plenty of bicycle paths in Malmö and several parking areas for bicycles and scooters adjacent to the theatre's entrance.
By car
There are several parking options available if you are driving to Skånes Dansteater.
In front of the theatre's entrance and farther down Östra Varvsgatan heading towards the sea there are street level outdoor parking lots. Accessible parking spaces are located in front of the theatre entrance.
If you prefer indoor parking, the Fullriggaren parking complex is located opposite the theatre accross accreoss the street and the Ubåten parking complex is located further up the street on Östra Varvsgatan.
All parking is paid by mobile apps such as Parkster, Easy Park etc.
Food and Drink
The theatre bar is open 60 minutes prior and after the performances as well as in intermissions. The menu consists of snacks, lighter fare, beers and wines.
You are welcome to pre-order for the intermission when you come to the theatre. Then your selected refreshments will be waiting for you at a numbered table, svaing you time during the intermission.
The bar is cash free. You can by cards or Swish.
Accessibility
Skånes Dansteater aims to provide accessible and inclusive experiences. We are continuously developing our venue and this website to increase accessiblity in our performances and events, workshops or digital channels.
Companion tickets are free of charge and booked by phone +46(0)703-44 58 11 or by email biljetter@skanesdansteater.se.
Skånes Dansteater is a partner of Malmönyckeln.
Early Boarding
Do you require a bit of extra time to find your seat and get aquainted with the performance space? Please join us for Early Boarding! We gather in the foyer before the performances begins and enter the auditorium together to find your seat. The exact times for Early Boarding can be found on the specific performance page on this site.
Enhanced Audio
Enhanced audio equipment is available free of charge. Please ask the Cloak Room staff to borrow the earphones and transmitter. The equipment is returned after the performance.
Audio Description
We offer audio descrption to several of our performances in collaboration with visual interpreter Gunilla Kracht among others.
Performance tickets with audio description are 100 SEK and are booked by email to dialog@skanesdansteater.se or by phone +46(0)703-44 58 11.
Contact
Customer Service
We are happy to help with ticket reservations, account issues and gift card purchase.
Phone: +46(0)703-44 58 11. Email: biljetter@skanesdansteater.se. 
Box Office
The box office at Skånes Dansteater is located in the foyer and open 60 minutes prior to our performances. Here you can make reservations and purchase tickets to all our performances.
If needed you can also pick up or purchase tickets at Malmö Opera's box office during their hours.
Reception and phone
Phone: +46(0)703-44 58 11
Visiting Address
Skånes Dansteater is located on Östra Varvsgatan 13a in Malmö, Sweden.
FAQs regarding visits to Skånes Dansteater
I am going to see my first dance performance, and I know nothing about dance.
Are children welcome at performances?
What do I wear to the theatre?
When should come to the theatre before the performance?
How do I show you my ticket?
What happens if I show up late?
Can you help me with my wheelchair?
Can I take photos and film during the performance?